I've spent a good portion of my free time this week working on a project that is a full year overdue, and it has a song stuck in my head.
Needless to say I am relieved to have the project done and that song gone from my poor brain. What project you ask? Ahhh, well let me tell you!
Even though last year year was T and my first married Christmas together, we kept it pretty minimalistic.
This year, however, in addition to our little 3ft artificial tree and some homemade decorations...
...we will have our very own stockings!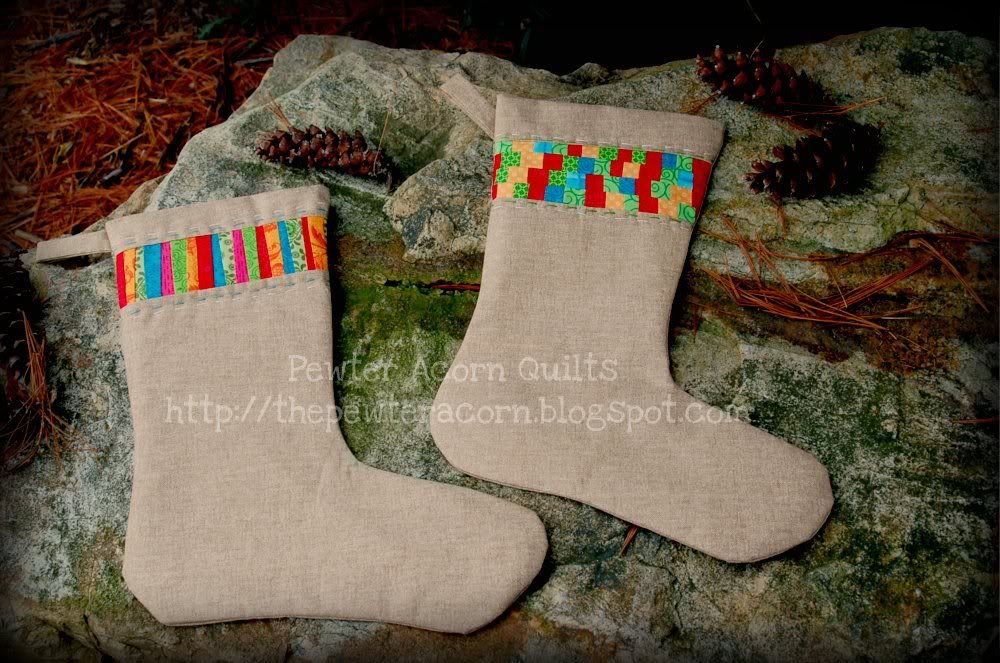 I had gathered some inspiration from pictures and images over the last month, and had a pretty specific mental image of what I wanted to make.
I knew I wanted them to look like a set, but to each be unique. I also knew I had fabric leftover from my
table runner project.
Hubby requested squares and even humored me when I asked him to "pick 6" from a pile of fabric (he has this weird aversion to making fabric choices).
My vision and my ability do not always quite match though, so I was a bit worried that I was going to fudge seam allowances or misjudge curves and end up with an amorphous blob, but I think I did all right, for making it up as I went along!
His and Hers Stockings :)
Once I got the front and back pieced I used a tutorial
here
from Allison of
Cluck Cluck Sew
to do the lining. Look ma! No raw edges! I did have a moment of sewer's regret when I realized I had sewn the hanging loop on the first one backwards and upside down. D'oh!!
I was so annoyed at the error that I forgot to take a "keeping it real" photo. Trust me, it was pitiful. But I got it (sort of) fixed and made sure to pin more carefully on the second time around.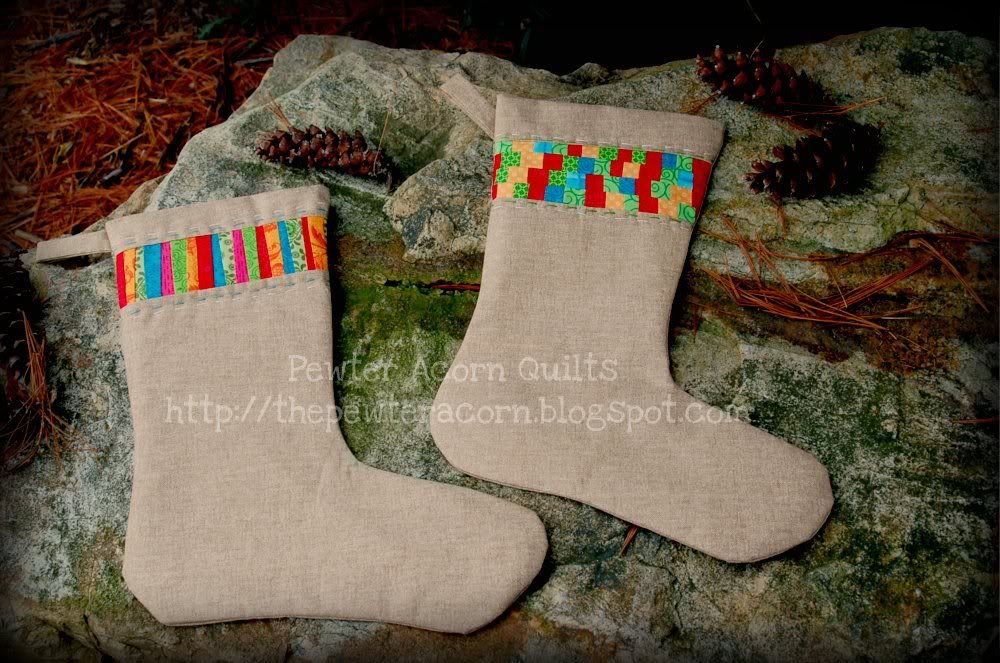 I am really quite pleased with how they turned out. I hope I made them well enough, and chose a neutral enough design that they will last us a long time. But, once I do have to make more, I know I'll be up for the task, and that is a really great feeling.
I am going to
try
to rally some energy up tonight to get a gift sewn for my nephew.
Are
you
doing any last minute holiday sewing or crafting?