All of my progress this week has been for swaps.
Hi my name is Annaliese. And I'm a swap junky.
1.) I loved the pile of charms that I got from the 1st round of the
Color Wheel Charm Swap
hosted by
Kate (from the Blue Chair)
! So much so, that I couldn't say no to Round 2.
This round, we are each assigned a color (mine is orange) and we each send in a light and a dark fabric. Here are mine! I got them cut and posted way early for the Nov. 19th deadline! Win.
Life Savers in Apricot by Connecting Threads
Morse Code in Tangelo by Connecting Threads
2.) Did I mention that we got our first snow out here in central PA? Ya. We did. Back on Oct. 30th. It put me straight on into Christmas mode (much to Hubby's confusion and dismay, haha).
In the holiday spirit, I'm well underway for my progress on the
Modern Christmas Tablerunner Swap 2011 being hosted by Susan.
There is an incredible amount of positive energy and participation in the
flickr group
. I have to say they have set the bar REALLY high as far as swap experiences go.
Enough bragging...

I've been turning this mock up...
...into fabric.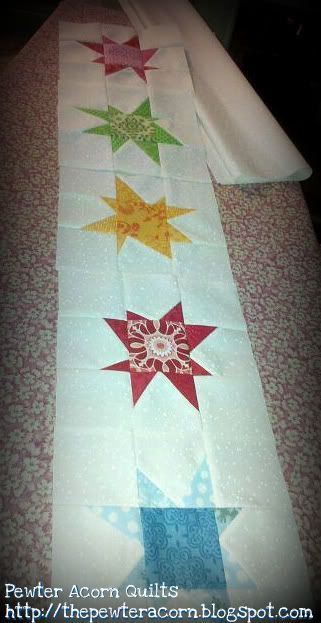 The 5 wonky star blocks are pieced and ready for the 'confetti border.'


I know I won't be winning any photography awards with this washed out , shadowy picture, but consider it a teaser :)
My swap partner is a pretty advanced swapper (her work is seriously amazing, but it's a secret swap so I can't tell you who it is.. yet!) so I am taking my time and trying to be as accurate and precise as possible. It makes progress slow, but so far so good.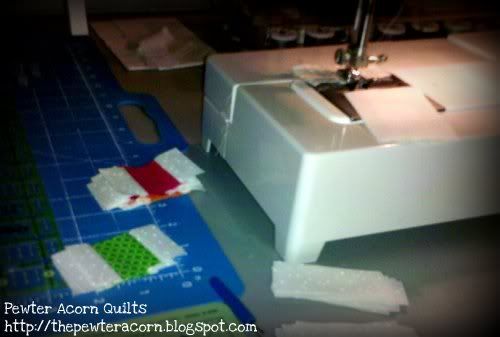 You likey? Me likey.
No Progress
Across the Sea QAL
Dead Simple QAL
Scrappy Friendship Quilt
Log Cabin Flag Quilt (partially quilted)
Quilts for Kids (2 quilt kits)
Needle Case
The Great Couch Re-cover
What have YOU been up to? As usual you should check out every one's works in progress at Lee's!