If you've come from the Small Blog Meet linky party at Lily's Quilts, welcome to my small blog!
And if you haven't, welcome anyway!
Keep reading to get to know me a bit, and feel free to visit a few other small blogs at the meet!
I'm an environmental scientist, with a ever-expanding love of fabrics and DIY.
Last summer I married my college-sweetheart,
who is a high school music teacher and mechanic. We are both eclectic, no?
(psstt...can I get a whoop whoop for celebrating our 1 year anniversary yesterday?? )
I grew up in New Jersey, but moved to to central Pennsylvania for college and haven't left. What can I say, I love it out here (even if the smell of cow is usually in the air)! There are trees, hills, and a beautiful River to keep my inner tree-hugger happy.
Why (I quilt): My love affair with fabric began around age 4. At that time my mom was a SAHM , and started her own home decor sewing and upholstery business on the side. I'm no child development specialist, but that's about the age children can recognize shapes, colors and patterns. I have vivid memories of her bringing me and my sister to the fabric store. There were baskets of thread, bins of notions, and a huge long tall playground of the most wonderful colorful fabric. My sister and I weren't tall enough to pull fabric, so we would run about the store organizing loose thread and mismatched notions. (you're welcome, sales associates!)


From there I was granted permission to use my Grandmothers old green Elna machine to learn alongside my mom as she worked.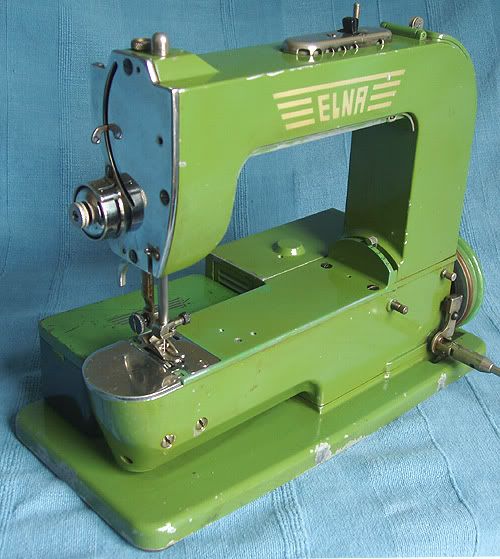 My Grandmother's Elna (aka the green machine) looked very much like this beauty
I graduated from practicing with no thread on lined paper to make my first pillow when I was about 8.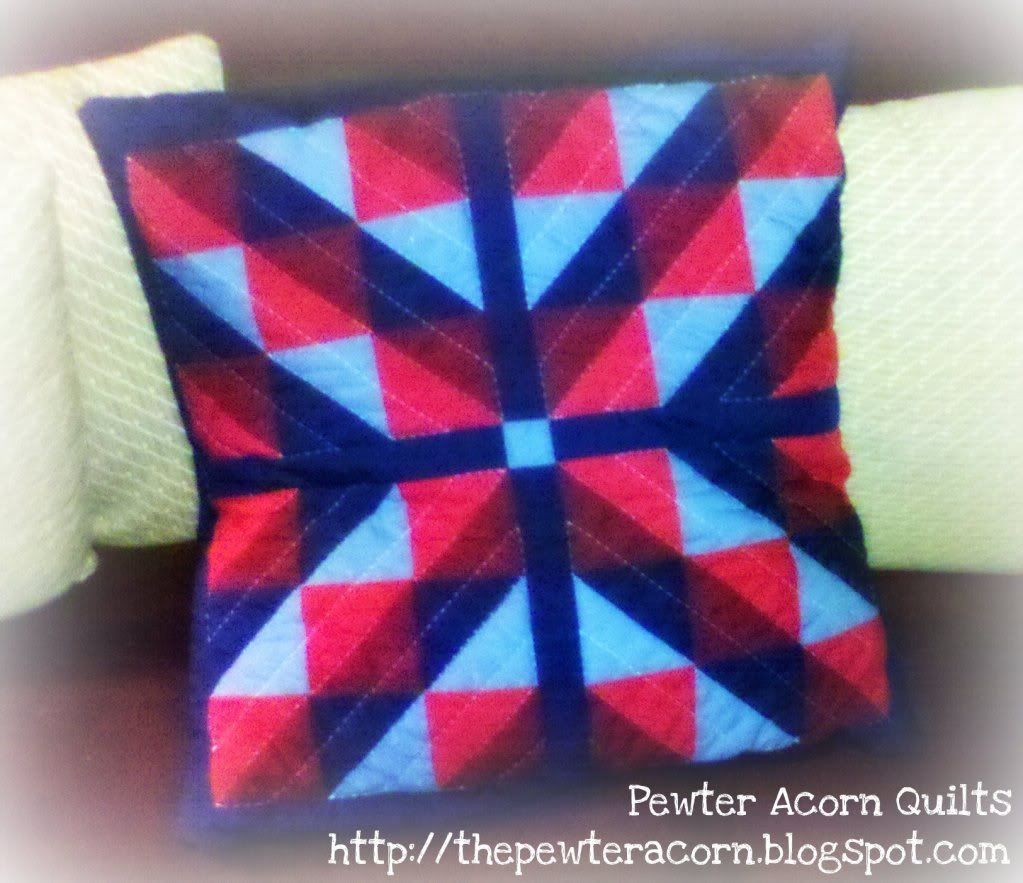 I created the pattern in the computer program Paint and was pretty darn proud of it ;)
I sewed on or off for the next ten years, but didn't really fall back in love with it until the end of high school. Now, I constantly peruse craft blogs for inspiration and new (to me) techniques and share sewing phone dates with my mom every week or so.
Those ladies got my creative juices flowing, and from that inspiration my little blog was built. Now I'm paying it forward, and sharing my creative adventures with you all.
I hope you've enjoyed your visit, leave a comment, I'd like to meet you (and your blog too)!
Thanks for stopping by!